AiT Semiconductor Inc. is focus on innovation for new markets application, not only for smart home but also Internet related. A4004 high integrated circuit for battery management.
The A4004 series is a highly integrated solution for lithium-ion / lithium polymer battery protection. The A4004 integrates a one cell battery protection chip and two MOSFET into tiny DFN6 (2×3) package, and only one external component makes it an ideal solution for limited battery pack space. The A4004 has all the protection functions required in battery applications, including overcharge, overdischarge, overcurrent and load short-circuit protection. Accurate, safe and fully functional charging. Low standby current consumes very little current during storage.
A4004 is suitable for portable devices or palm-type devices, as well as any other equipment which required longer battery life in li-on and lithium polymer batteries.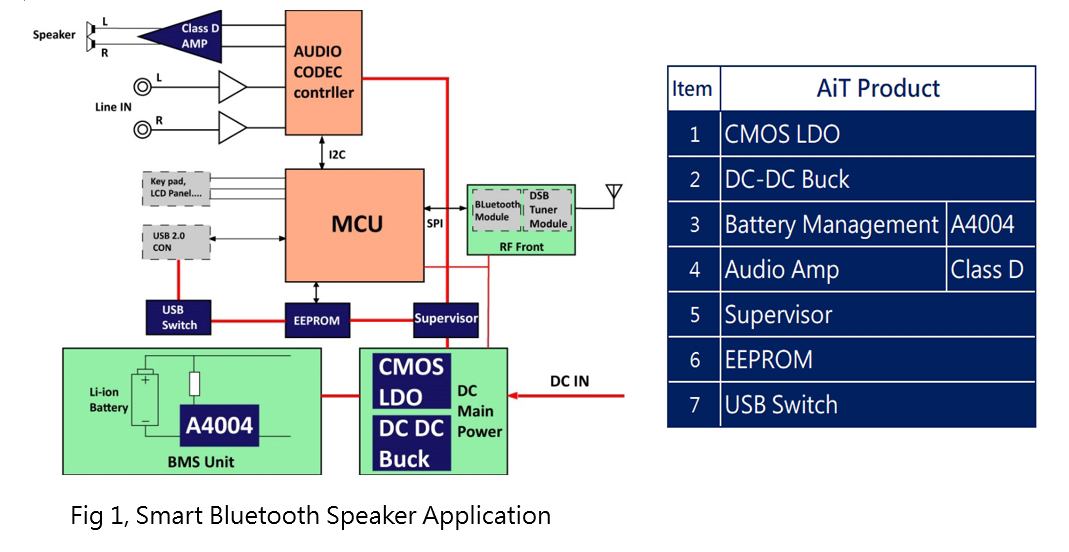 Bluetooth Speaker, as above Fig 1. A4004 maximize battery management function.
AiT Semiconductor provides 7 product family as solution in Blue Blocks.
More information, please contact local distributor or send mail to sales@ait-ic.com